Saeeda's Foundation School, located in the heart of Karachi, gives quality education at a affortable cost.
SFS was created in 1985 and is regarded as one of the finest educational schools in Karachi.
The school currently offers classes from Pre-Nursery to Class 10.


At SFS, we think it's important to use a smart and up-to-date curriculum and give our students a well-rounded education.This is why, in addition to their academic successes, we encourage our students to participate in co-curricular and extra-curricular activities.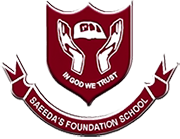 Our faculty is not only highly skilled in their various teaching disciplines, but they are also actively concerned in their students' development and advancement.
Our faculty is known for engaging and dynamic classes that offer students with a thorough comprehension of the content being taught while also increasing their interest in the subject.
The ultimate goal of the SFS faculty is to holistically develop and enhance our students' talents in order to prepare them for work life and beyond.
Montessori
The Montessori curriculum at Saeeda's Foundation School focuses on language, math, culture, practical life skills, and sensory learning and development. Each year, children learn more and more about the core subjects, and by the end of kindergarten, they have a solid grasp of the material.
Primary
We urge our pupils to reflect on their learning and to think critically and intellectually. Our multidisciplinary STEAM courses give students with the opportunity to do so by integrating Science, Technology, Engineering, the Arts, and Mathematics, and by enhancing students' critical thinking, problem-solving, and decision-making abilities.
Our individualised Life Skills curriculum instructs and cultivates students' morals and values. It teaches kids all the beneficial characteristics that help them become self-assured, responsible, courteous, and successful adults.
Secondary
Our mission is to provide a diversified curriculum for the 21st century that assists each child's academic, social, mental, emotional, artistic, and holistic growth. We place a special emphasis on the development and mastering of literacy and numeracy skills among our pupils, as we consider them to be the most pressing needs of our time.
Get started! Complete the registration form online. Our team will contact you shortly.
Print and complete the application for admission, and gather the relevant materials.
Submission and Assessment
Submit the application on campus; your child will take the admissions examination on the same day, Insha'allah.
The applicant and their parents participate in a discussion with the Headmistress and Director of Admissions.